Visit Ashton Park's New Dick, Kerr Ladies' Plaque
Posted: 13 December 2021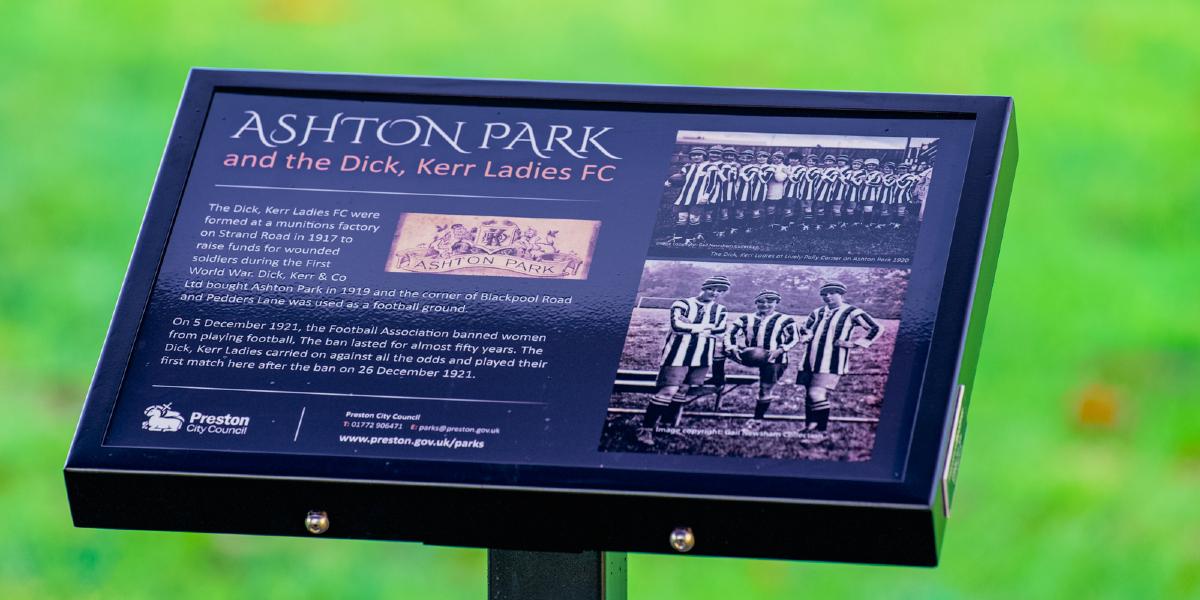 Preston's second tribute to the Dick, Kerr Ladies was unveiled on Friday 10 December 2021 at Ashton Park. The women's football team first received long overdue recognition in the form of a memorial at Deepdale Stadium. Now the ladies have their own interpretation board in Ashton Park, marking the location of their first football match after the Football Association banned women's football on 5 December 1921. This match was played on 26 December 1921 - almost 100 years to the day of the interpretation board's unveiling.
During the unveiling, the Mayor's speech reflected on the history and struggles of the women's football team, who were described as a forgotten jewel in Preston's crown. The Dick, Kerr Ladies Ambassador, Gail Newsham, was also present and gave a speech on the day. Gail was born in Preston and always had a love of football. When she was growing up, girls weren't allowed to play football so there was no chance of playing in an official team.
The FA ban was finally lifted around 1970, and the North West Women's Football League was formed in 1970. Gail first went to play for Peter Craig Ladies before eventually moving to Preston Rangers. In 1992 Gail organised a reunion of the Dick, Kerr Ladies as part of the Preston Guild celebrations. It was the first time they had been together in almost forty years. Meeting them made Gail realise that theirs was a bigger story than anyone had realised. There was nothing written down about these inspirational women, and no one really knew who they were, so Gail spent the next few years researching their history. She went on to write a book about them, first published in 1994. It was the first book of its kind written by a female football player.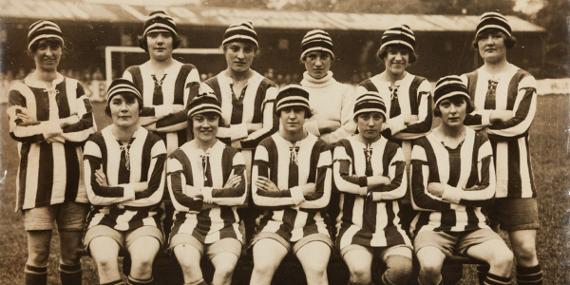 Who were the Dick, Kerr Ladies?
Preston's Dick, Kerr Ladies formed in 1917 at the munitions works Dick, Kerr & Co Ltd. They played their first game at Preston North End's Deepdale ground against Coulthards factory, beginning their journey in shaping women's football.
The team's success grew rapidly, and by 1921 they were booked to play an average of two games a week all over the British Isles. The team still managed to play over 60 games that year whilst working full time in the factory, being watched by almost 900,000 people throughout the country.
Bad news came for the team when those within the national game felt increasingly threatened by the large number of spectators the women were attracting. The FA claimed to have received complaints and it was suggested that football was dangerous for women and that it could affect their fertility. On 5 December 1921 the FA banned the girls from using league grounds. But in spite of this prejudice the Dick, Kerr Ladies went on to play over 800 games of football in the UK and abroad, raising over £180,000 for charity - a figure that today would be worth excess of £10 million.
The team continued to play football against all the odds, playing throughout the 1920s and 1930s. They also played matches in the USA and claimed to be World Champions due to their impressive record. In 1937 they were challenged to this title by Edinburgh Ladies, the champions of Scotland. The Championship of the World match took place against Edinburgh Ladies, with the Dick, Kerr Ladies living up to their claims and winning the match 5-1.
After being put on hold during WWII, the team resumed playing on through many challenges up until 1965 when they were forced to disband due to a lack of players.
Visit the Dick, Kerr Ladies website for even more fascinating history surrounding the team.
Map address for Dick, Kerr Ladies memorials
Ashton Park, Pedders Lane, Ashton-on-Ribble, Preston, PR2 1HL.
Deepdale Stadium, Sir Tom Finney Way, Preston, PR1 6RU.