Haunted Preston: Samlesbury Hall's Spooky History
Posted: 1 October 2020 | Reviewed: 1 September 2022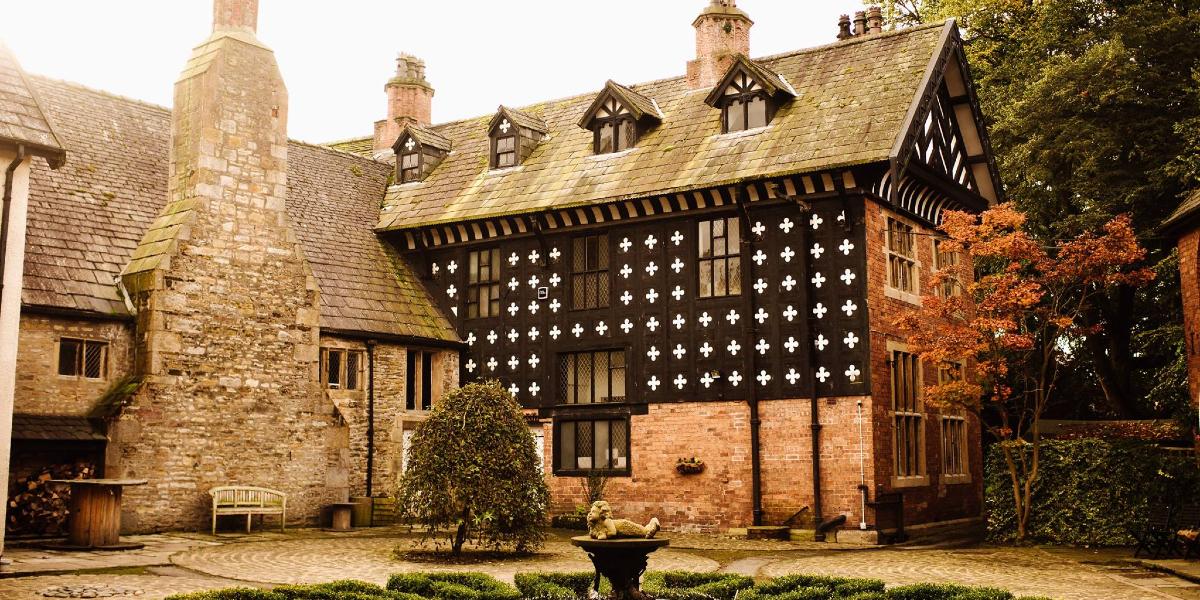 Lurking in the shadows and round every corner, you'll find Preston's unsuspecting buildings with some secrets to tell. Samlesbury Hall, with its charming black and white timber exterior, is one of these buildings.
Dating all the way back to 1325, Samlesbury Hall has some seriously spooky history to share with you. The medieval building was initially a family home for the Southworth family, and is renowned as one of the most haunted buildings in Britain due to its history of tragedy and ghoulish goings-on.
The White Lady
One of the most frequently spotted ghosts roaming Samlesbury Hall is the White Lady. She has been spotted by visitors and employees inside the Hall as well as nearby fields and even the nearby bus stop, causing drivers to stop the bus but no one to get on...
The identity of the White Lady is thought to be Dorothy Southworth. Dorothy's family were strict Catholics and, in the 17th Century, she fell in love with a boy from an Anglican aristocratic family. Dorothy's father forbade them to get married so the young couple would meet in secret and decided to elope. Tragedy struck when the couple's secret was discovered by Dorothy's brothers. On the night of their elopement the brothers waited in ambush, killing the boy and two of his friends. Dorothy was sent away to a foreign convent where she died of a broken heart.
Centuries later, three skeletons were discovered outside the moat. The popular opinion has connected the remains with Dorothy's tragic tale.
The Priest
Legend tells the story of the ghost of a Priest haunting the Priest Room. The story says that the Priest was murdered by soldiers and decapitated. The bloodstain is said to still appear where he fell, even after the floor was replaced by one of Samlesbury Hall's latter owners.
The Witches of Samlesbury
Jane Southworth, who married into the clan in 1598, was accused of witchcraft in 1612, along with Jennet Bierley and her daughter-in-law Ellen Bierley. They were accused by 14-year-old Grace Sowerbutts: Jennet's granddaughter and Ellen's niece.
Jane's husband had recently died and his uncle Christopher (a priest in the Church of Rome) strongly objected to Jane as she would not be dissuaded from the Parish Church. Grace Sowerbutts was sent to Christopher to learn her prayers, an opportunity he must have used to coach her to accuse the women of witchcraft.
Grace's stories accused the women of abusing her and killing a 12-month-old baby, digging up the body from Samlesbury churchyard, cooking it, and eating it. They were also accused of saving the fat and using it to make a magic ointment that would change their appearance. Grace Sowerbutts eventually confessed her story to be untrue and that she was coerced by Christopher.
The women were spared an agonising death sentence, but not before going through a degrading trial to prove their innocence.
The Harrison's
Blackburn philanthropist and entrepreneur Joseph Harrison bought Samlesbury Hall in 1862. Disaster struck for Joseph's son, William, in 1879 - he fell heavily on ice, resulting in a serious head injury and a fractured knee cap. Just months later, this misfortune was followed by a rabid dog biting a dog of William's. After the dog started displaying hydrophobic symptoms, William knew the dog would have to be shot but his gamekeeper strongly disagreed. William was later found dead after shooting himself.
William's sister believed he shot himself by accident when loading the gun to shoot the dog. His brother Henry agreed he was unlikely to shoot himself, though he did admit William had complained of his inability to read and sleep and pains in his head. Henry also said William hadn't been the same since the accident and found giving clear instructions and writing letters a task.
Joseph Harrison died the following year and some believe the spirits of the family struck by tragedy still linger to this day. Unexplained goings on are still reported at Samlesbury Hall, including bells ringing on their own.
Paranormal events in Preston
There are a variety of paranormal events to keep you spooked throughout the year, including clairvoyant evenings at Samlesbury Hall and ghost tours at Hoghton Tower.
For more haunted tales see Preston's Spooky Stories.
To see what's on in Preston check out our Events Calendar.
Map address for Samlesbury Hall
Samlesbury Hall, Preston New Road, Samlesbury, Preston, PR5 0UP.