Meet the Maker: Priest Town Brewing
Posted: 8 June 2020 | Reviewed: 1 September 2022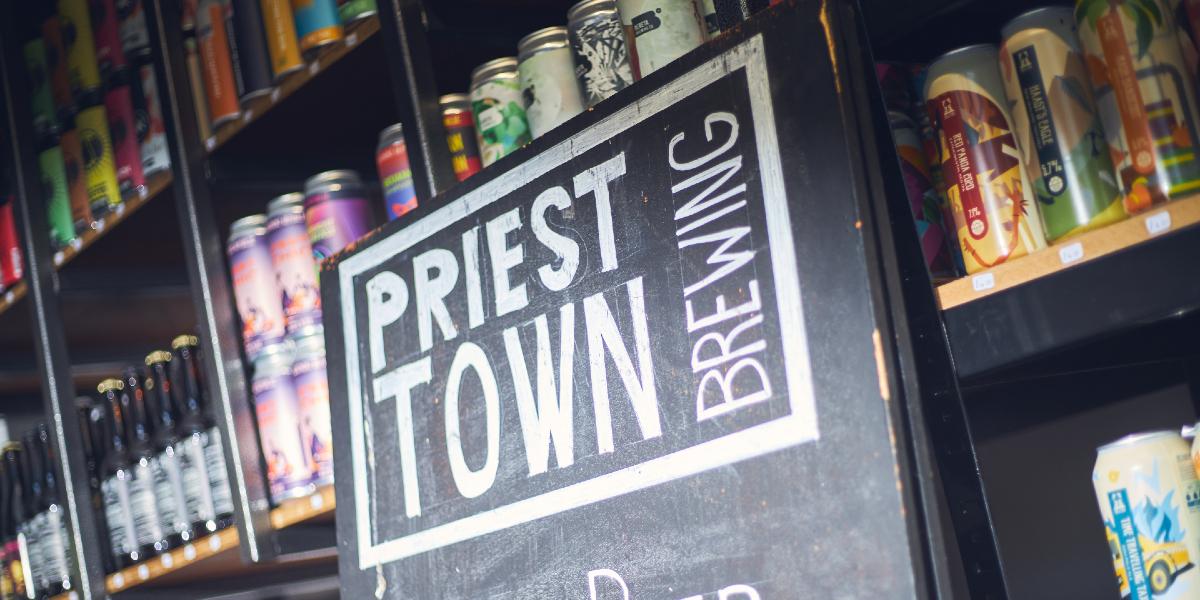 Meet Priest Town Brewing - a local craft microbrewery with their own Box Market Stall at Preston Markets.
The Priest Town Brewing stall is a celebration of Prestonian and North West talent, with an epic range of locally brewed beers and craft gins. Their unique range of bottles and cans include their own signature beers as well as those from local independent breweries, such as Beer Brothers of Preston and Crankshaft Brewery of Leyland.
Not a beer fan? No sweat. Priest Town Brewing also stock local ciders and gins, including Ribble Valley Gin and The Spirit of Garstang.
Having just expanded their Box Market stall at Preston Markets, now is the time to pay Priest Town Brewing a well-deserved visit. So, head on down, um and ah over which fantastic beers to take home with you, and even pick up a PTB t-shirt.
Ian at Priest Town Brewing said:
"Preston has always meant a lot to me and I'm very proud of my roots here. In the early 90's I had a band called Priest Town so the name has been with me for a long time.
"I take my inspiration from the long history of our city and the people associated with it. We do the core beers, which are very Preston-centric, and then a range under a PTB banner, which are a series of one off beers, and for this I have linked up with local artist Gavin Renshaw to provide artwork, again taking its inspiration from the sights of Preston.

"I've worked in retail for others for over 30 years now and wanted to do something for myself and leave some kind of legacy. The stall was initially there to promote the brewery but has done so well that it has become its own entity really. We've had great feedback since opening that expansion seemed the logical thing to do".
Meet the Priest Town beers
Meet some of Priest Town Brewing's core beers, all of which give a nod to Preston, of course:
Ribbleton Red - a well rounded Viennese-style amber lager, taking its name from Ribbleton, the home of Priest Town Brewing!
Harris Stout - a subtle stout with an aroma of treacle and a gentle coffee taste, taking its name from Edmund Robert Harris, one of the city's most generous and beloved Prestonians.
Livesey's Lager - a strong ,full-bodied, flavoursome lager named after the philanthropist and teetotaller, Joseph Livesey.
Addison's Ale - an old age robust ale named after the former Recorder of Preston, Thomas "Batty" Addison.
PR2 IPA - a strong, well-hopped and classically brewed IPA with a nod to the PR2 postcode.
Follow Priest Town Brewing on social media
Make sure to follow Priest Town Brewing on Facebook and Instagram to keep up to date with their latest news, beers, and more.
More shopping in Preston
From independent shops and craft markets to high-street staples, check out our shopping section for a rundown on Preston's shopping experience.
Map address for Priest Town Brewing
Priest Town Brewing, Earl Street, Preston, PR1 2PT.