Rugby League World Cup 2021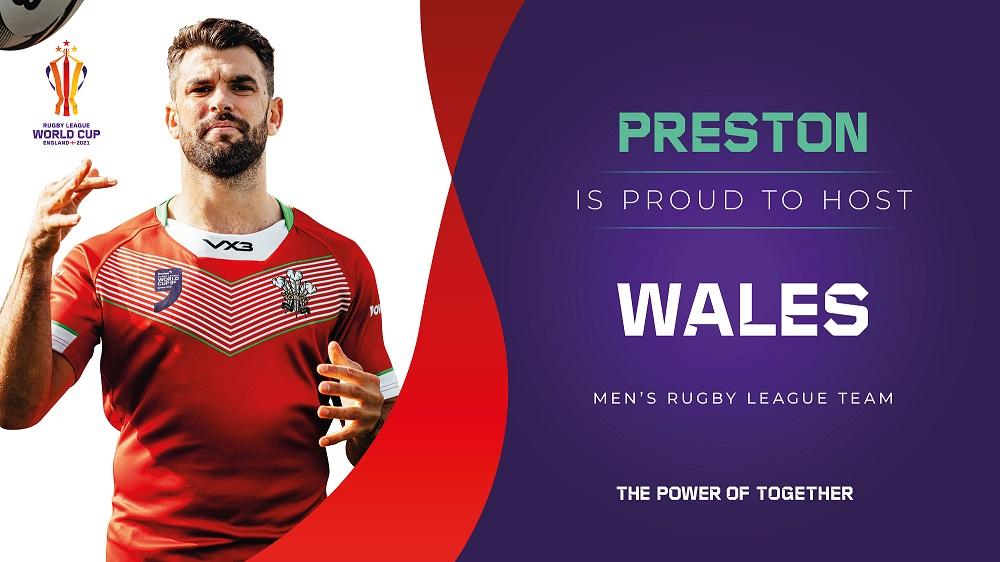 Preston plays its part in the biggest Rugby League World Cup.
The Rugby League World Cup is the pinnacle event in international rugby league, and on Saturday15 October, the hosts England will face Samoa at St James Park in Newcastle. Like no other form of the game, players compete with the pride of their nation at the heart of every performance.
Furthermore, RLWC2021 will be the most visible rugby league event in history, with all 61 games in the men's, women's and wheelchair competitions being broadcast live on the BBC, with many of the games taking place in our region.
Preston will play its part in the Tournament by being the proud hosts of the Wales Rugby League men's team, featuring athletes in the elite squad that play in teams in the North West and further afield in the high-profile Australian Super League sides.
With its rich connection with sport, the University of Central Lancashire (UCLan) will be providing training facilities for the players, but the key reason for hosting the team was to boost participation in the game and create a legacy.
And it looks like this is already happening. Through the Preston North End Community Education Trust, a partnership with Preston City Council, UCLan and the Rugby Football League, its community development officer, Ryan Allen, is building school engagement and working with Preston and South Ribble Rabbitohs to create a rugby league team for the City.
Preston City Council also sees the Tournament as an excellent method of promoting the City, famed for its hospitality, but how sport plays a critical role in developing the local economy while helping improve physical, mental and social wellbeing.
If you want to see new rivalries form, old ones play out with vigour and pre-game Hakas, Sipi Taus, and hymns set the stage for clashes of epic proportions; now's your chance. Don't miss what is expected to be the biggest and the best Rugby League World Cup.
To find out more about the Tournament's fixtures and tickets, visit RLWC2021 or Follow #RLWC2021 to engage with the Rugby League World Cup 2021 build-up and ongoing conversation.
RLWC 2021 Ambassadors
Learn more about the many aspects of the RLWC2021 by hearing from the Tournament's ambassadors at RLWC2021 - our ambassadors.
Get free tickets and merchandise with Preston's RLWC2021 Free Draw
Preston City Council in partnership with UCLan are giving you the chance to enter a free draw for official tournament tickets or merchandise. Items up for grabs include shirts, hoodys, water bottles, bobble hats, back packs, and tournament balls.
So, if you'd like to see rugby league sports stars from across the world compete at the highest level, enter our free draw. It's so simple!
How to enter
Enter the free draw through the following ways:
Email
Simply email your name, address and contact details to rlwc2021@preston.gov.uk, with 'RLWC2021 Free Prize Draw' in the email's subject line.
Postcard
You can enter the prize draw by completing an official RLWC2021 prize draw postcard with your name and contact details. Postcards will be located in and around the City's shops and venues including Preston Market. The postcard can be sent to Preston City Council or delivered to the Town Hall's reception in person.
Social Media
Simply like or follow our social media channels, which include Preston City Council and Visit Preston. Like any of our RLWC2021 posts and add a comment with the hashtag #RLWC2021Preston.
If you've been successful, we'll notify you as soon as possible.
For terms and conditions see our Rugby League World Cup 2021 Free Draw Terms and Conditions.
Which matches could I win tickets for?
We have tournament tickets available for the following matches:
New Zealand vs Lebanon (Men's)
Date/time - Sunday 16 October, 7:30pm
Venue - Halliwell Jones Stadium - Warrington
England vs France (Men's)
Date/time - Saturday 22 October, 5pm
Venue - University of Bolton Stadium - Bolton
Tonga vs Wales (Men's)
Date/time - Monday 24 October, 7:30pm
Venue - Totally Wicked Stadium - St Helens
Australia vs Italy (Men's)
Date/time - Sat 29 October, 7:30pm
Venue - Totally Wicked Stadium - St Helens
Papua New Guinea vs Wales (Men's)
Date/time - Monday 31 October, 7:30pm
Venue - Keepmoat Stadium - Doncaster
Men's Quarter Final 1 (Men's)
Date/time - Friday 4 November, 7:30pm
Venue - The John Smith's Stadium - Huddersfield
England vs Brazil and PNG vs Canada (Women's)
Date/time - Tuesday 1 November, 2:30pm and 5pm
Venue - Emerald Headingly Stadium - Leeds
Canada vs Brazil and England vs PNG (Women's)
Date/time - Wednesday 9 November, 5pm and 7:30pm
Venue - Emerald Headingly Stadium - Leeds
Winner SF1 v Winner SF2 (Wheelchair)
Date/time - Friday 18 November, 7:30pm
Venue - Manchester Central