See The Harris as You've Never Seen it Before
Posted: 29 June 2022 - Reviewed: 13 January 2023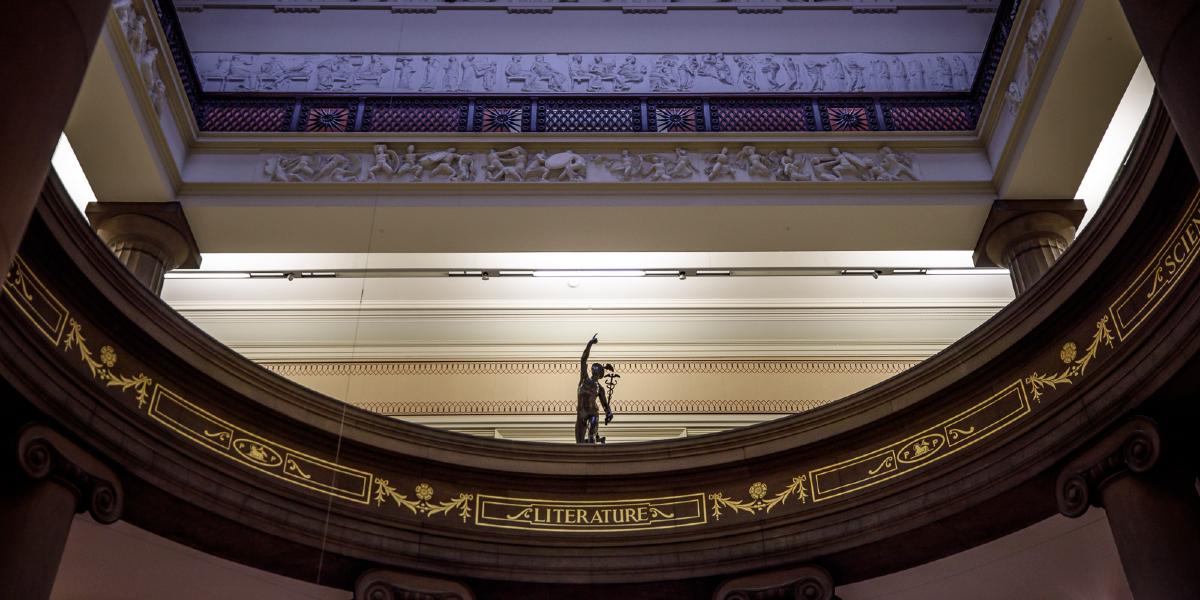 The Harris closed its doors in October 2021, ready for its 'Harris Your Place' makeover. The Grade I listed building is a staple sight in Preston, with stunning architecture to be witnessed inside and out. Though work goes on behind closed doors, outside you can still admire its original features in its stone carvings, pillars, statues, and ornate details.
The Harris Museum, Art Gallery, and Library began its journey in Preston in 1877, thanks to Sir Edmund Robert Harris. Sir Edmund was a local lawyer, with no heirs, and he generously left his fortune to Preston town. On his passing, in 1877, Edmund left £300,000 and instructions to create a trust that would support the development of many new public institutions in Preston. In 2021, this £300,000 would equate to £24,418,333. Thanks to Sir Edmund Robert Harris' trust, The Harris Library and Museum was born. The building of The Harris began in 1882 and officially finished in 1893.
Whilst The Harris' doors are closed for its refurbishment, you can still find the library and gift shop in their 'home from home' in Preston Guild Hall.
Harris Your Place Project
'Harris Your Place' aims to create a better Harris for everyone through a re-imagining of the buildings and its spaces. With £4.5m granted from the National Lottery Heritage Fund, and backing from Antiques Roadshow star Eric Knowles and international artist Lubaina Himid, the project got the green light from 2021.
The 'Harris Your Place' took the public's comments and views into account. Visitors to the museum and Preston residents want to see The Harris' hidden collections on show and have new spaces to enjoy, with more opportunities for inspiration.
When The Harris re-opens in 2024, it will have multiple entrances, and a new public stairway and lift. An exciting experience will also be created for you and families, with displays and activities blending art, history, and books. Creative Prestonians and Lancastrians will be inspired by the new Creative Preston Gallery, where they can create and display work. Children will have the Children's Space and Young People's Zone, and the Harris Cafe, shops, meeting areas, and event spaces will all be improved. All this is polished off with a refurbishment of the Grade I listed building itself.
The Harris behind closed doors
As The Harris began the next part of its exciting journey, its wealth of paintings, statues, glassware, books, and more had to be lovingly removed and safely stored - ready to be admired another day. See the building in a new light with these photographs, taken as the collections began their relocation.
These photos were taken by Michael Porter Photography.
Take a virtual tour
If you miss visiting The Harris, fear not, you can take a virtual tour of The Harris.
See all the familiar spaces and exhibitions of ceramics, glass, art, fashion, textiles, and the Discover Preston Gallery - all before they are transformed. The tour also includes the Egyptian Gallery, a space only opened on rare occasions.
You can also visit The Harris - Collections for a view of some of collections The Harris housed before closure, and will be housing on re-opening. These collections consist of paintings, drawings, prints, sculpture, glass, ceramics, costume and textiles, history, photography, digital art, and more...
Stay involved
You can still visit The Harris Library and the gift shop inside Preston Guild Hall. Here, The Harris also host events, including workshops and family events. You can see what's on at The Harris on our What's on.
For those who wish to get even more involved and up-close-and-personal with The Harris, you can become a Friend of The Harris. From £25 a year, friends of The Harris meet artists, authors, and curators; enjoy exhibitions previews and special events; meet like-minded people at Friends' events based on books, collections, and exhibitions; receive priority booking and advanced information; enjoy a 10% discount in the cafe and shop; receive the latest news and updates, including inside information; get creative by being a guest writer on The Harris blog or showing your own work.
For those who wish to donate to The Harris Your Place visit The Harris - Make a Donation.
Follow The Harris on social media
Follow the progress of 'Harris Your Place' and upcoming events or exhibitions: