Cycling in Preston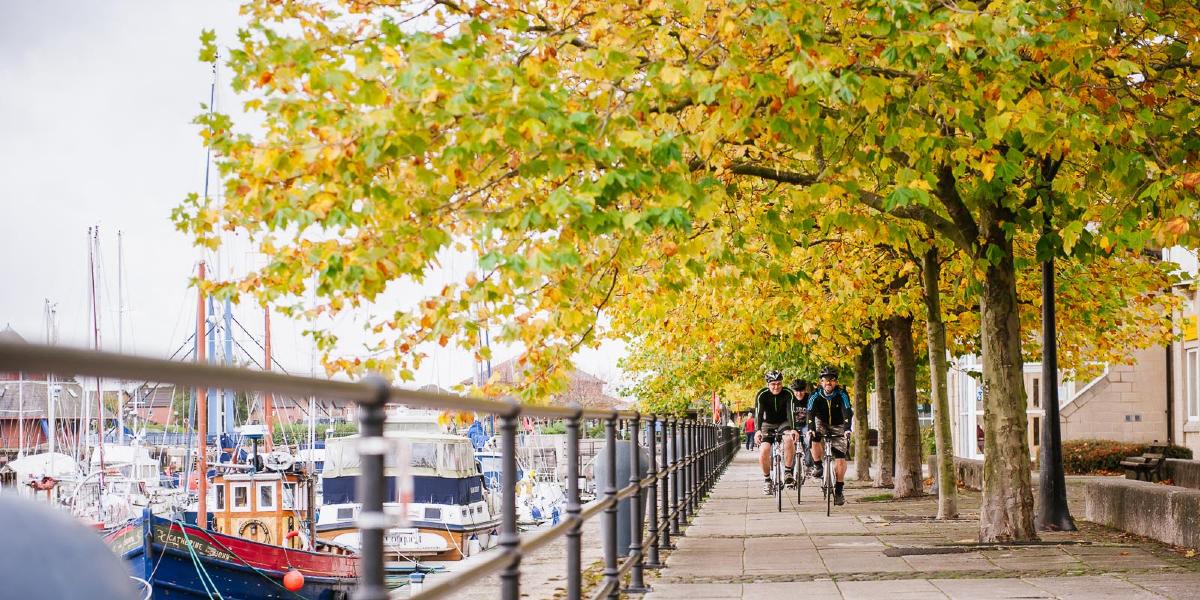 Discover cycle paths and routes for all abilities.
Whether you're searching for a gentle cycle route or something more challenging, Preston delivers an array of cycle paths for cyclists of all abilities. And, with the opportunity to hire a bike from Leisure Lakes Bikes Hub, what better reason to reduce your carbon footprint and get active?
You can download the Let's Cycle Preston and South Ribble PDF guide (PDF) [9MB] for a visual map of cycle routes around Preston.
Leisurely cycle routes
For all kinds of enjoyable cycle-packed days out, Preston and its surrounding areas boast a diverse choice of routes.
Ribble Link Canal
The Ribble Link Canal is just one of the routes that provides a great spot for cycling around Ashton and Lea. Connecting with the Lancaster Canal and flaunting some great statues to spot en route, the Ribble Link makes an interesting and relaxing day out.
For more details visit AllTrails - The Ribble Millennium Link.
Guild Wheel
The most notable hotspot for cycling in Preston is the Guild Wheel. The diverse 21-mile route provides the perfect opportunity for a challenging and enjoyable day of cycling.
You can take on the challenge of the full circular route, absorbing all the sights of the city and beyond. Or, hop on at any point for a short route to get you out and about in the fresh air. Mixing urban with rural, the route can be what you make it, with much waiting to be discovered along the way.
Park rides
Avenham and Miller Parks offer many diverse routes for cycling. Not only is Avenham Park the official starting point for the Guild Wheel, it is also home to many different paths and circular routes, through the trees and along the River Ribble. The parks are also a great gateway into the city centre from South Ribble and Preston Docks.
For equally pleasant routes, Preston offers up a large number of Green Flag Parks to cycle around.
Not far from the city centre, Haslam Park includes a nature reserve, along with a lovely pond and a tree-lined avenue to enjoy. There are numerous paths to cycle round as well as a circular route that takes in the scenery.
You will also find Ashton Park easily accessible via bike. With such a large green space and many paths, this park makes a great laid-back cycle ride. With Preston Docks nearby, there are even more opportunities to enjoy some scenery. You can even effortlessly hop onto the Guild Wheel for a longer circuit or route into the city centre.
Another well-connected and large park, Moor Park creates a wonderful environment for a gentle cycle. Being Preston's oldest and largest designated parkland, the park has much to see and plenty paths to show off. You will also find Deepdale Stadium and Deepdale Shopping Park to explore nearby The Rosemary on the Park café, situated on Moor Park itself, is ideal for a place to refuel with refreshing drinks available and a large lunch and snack menu.
Indoor cycling at UCLan Sports Arena bike track
Whether you're a pro or a novice, UCLan Sports Arena Bike Track boasts a 1.5km cycle track and a 0.75km junior cycle track. The track is open to individuals, clubs, races, and meetings. Just purchase a daily permit, bring along a helmet, and you're ready to go. There are even specially adapted bicycles for cyclists with disabilities.
For more details and prices visit UCLan Sports Arena - Cycling.
Cycling groups
Whatever you're looking for in a cycling group, you're sure to find one to suit you. Preston is home to a variety of groups for all kinds of abilities.
Wheels for All
Wheels for All is a nationally recognised programme that embraces all children and adults with disabilities and differing needs. By using specially adapted bicycles, the activities are both physically and mentally stimulating and, above all, fun for everyone involved.
Preston's "Wheels for all" group meets in Moor Park and indoors during the winter. The sessions are very friendly and a warm welcome is guaranteed by all the staff and volunteers.
For times and prices visit Wheels for All - Preston Moor Park.
Let's Ride
Let's Ride is a great way to discover new cycling routes and like-minded people to experience them with. The organisation organises events from huge traffic-free bike rides to small local rides for families and beginners.
For upcoming rides visit Let's Ride - Ride Finder.
Breeze Network
Breeze Network offer fun, free bike rides for women of all abilities. The rides provide support and inspiration and come in all kinds of lengths and difficulties.
For more details and upcoming rides visit British Cycling - Breeze.
Cycling clubs
Whether you enjoy leisurely bike rides or adrenaline-pumping routes, there's sure to be a club to take your cycling to the next level.
Preston Pirates BMX
Preston Pirates BMX Club is based at Fishwick Local Nature Reserve and Recreation Ground. The club are part of British Cycling's Go Ride junior programme and help develop young people's cycling talents as well as hold regular races and meetings.
For more details visit Preston Pirates BMX.
Preston Wheelers
Preston Wheelers is a traditional cycling club and the oldest in the Preston area. The club holds two club nights a month, social events, an annual open "25" time trial, club runs, and many other events.
For more details visit Preston Wheelers.
Red Rose Olympic
Red Rose Olympic have a vibrant race scene and offer a programme of rides, including cycle-cross. The club also have a juniors' section, as part of British Cycling's Go Ride scheme, with regular training events at UCLan Sports Arena bike track.
For more details visit Red Rose Olympic.
Ribble Valley Cycling and Racing Club
Ribble Valley Cycling and Racing Club organise regular Sunday runs, social events, time trials and cycle races for people of all ages. Whether you're an experienced rider or want a leisurely hobby, the club caters for all kinds of riders.
For more details visit Ribble Valley Cycling and Racing Club.
Ribble Valley Juniors
Ribble Valley Juniors are part of British Cycling's Go Ride scheme. The club offer a programme of rides, racing and coaching for young riders and their families.
For more details visit British Cycling - Ribble Valley Juniors Cycling Club.
#VisitPreston - Share your experiences
Share your Preston adventures and discover new places to enjoy using #VisitPreston.