Avenham and Miller Parks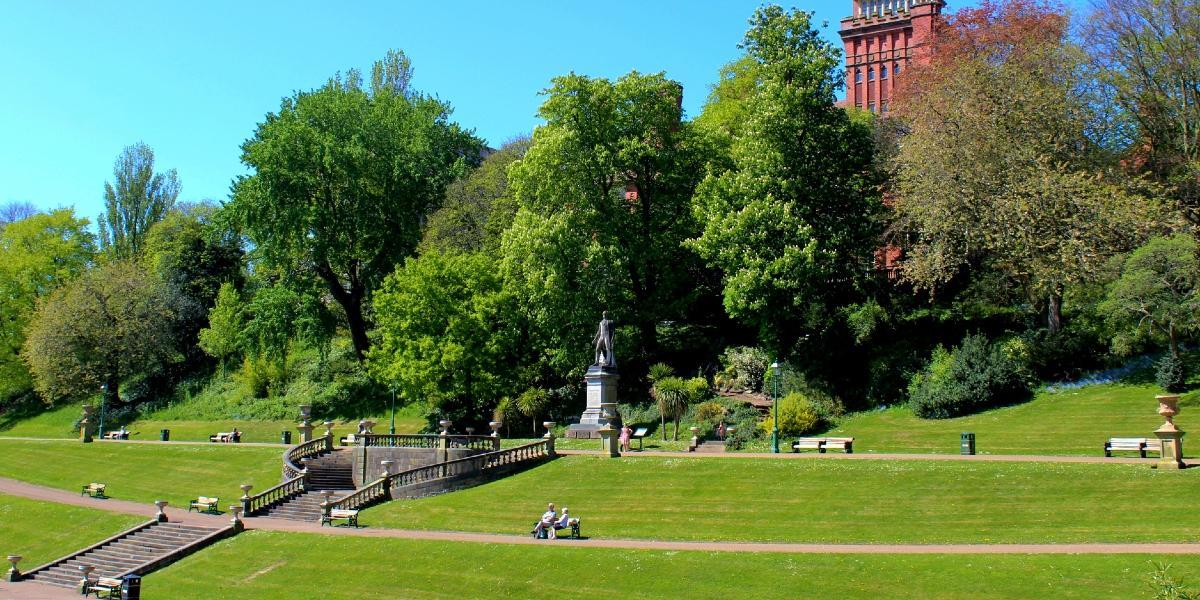 Avenham and Miller Parks are located in the heart of Preston's city centre, yet feel far removed from their urban surroundings. The parks are connected by beautiful and scenic paths, creating one large and diverse park with a lot to offer. Both parks have many different paths to choose from, effortlessly interlinked so you can explore in a way that best suits you.
The parks create a peaceful retreat away from the hustle and bustle of the city, mixing the natural beauty of the River Ribble flowing by with landscaped gardens, exotic trees, and historical structures. Not only are they perfect for a tranquil stroll, they are also steeped in history and are home to a children's play area and vast green space.
With Avenham Park being the official starting point for the Guild Wheel, the parks make a fantastic place for a leisurely cycle, or something more challenging. As well as many different walks in and surrounding the parks, they also make up part of the Ribble Way National Trail.
Due to their central location and six main entrance points, Avenham and Miller Parks are easily accessible by foot and bike, with car parks and public transport points nearby.
Avenham Park
The natural amphitheatre in Avenham Park is the ideal spot for picnics, watching the world go by, and family games. The park's paths circle this large green space and offer serene views from all angles. This includes views of the park's Japanese Rock Garden - a beautiful and exotic garden area created in the 1930s. The Japanese Rock Garden features a peaceful pond and areas to sit and reflect.
Avenham Park is also home to the Pavilion Café. The café's riverside setting makes it the ideal place to unwind with a refreshing drink or coffee, or even grab a spot of lunch. For those summer days, the café also serves ice cream and an array of food and drink that can be enjoyed outside.
Miller Park
You will find many picturesque spots in Miller Park, suitable for relaxing and picnics. Stroll along its tree-lined path which runs alongside the River Ribble, and continues through Avenham Park. Climb the park's historical steps which lead up to the Derby Walk - getting its name from the Earl of Derby statue that stands tall, overlooking the path. The Derby Walk also features beautiful flowerbeds, trees, and stunning views over Miller Park, the River Ribble, and beyond.
Miller Park has many fascinating and historical points of interest. These include its listed water fountain, rock features, spiralling gardens, and a large basalt rock from the Giant's Causeway.
Facilities
Avenham and Miller Parks' facilities include:
Children's play area
Public toilets
Disabled toilets
Wedding facilities
Events
Not only are Avenham and Miller Parks great for everyday enjoyment, there are also a number of activities and events which take place throughout the year. These events include the annual Easter Egg Rolling, outdoor theatres, vintage fairs, and fun events around the school holidays.
For details of current park events visit our What's on.
Weddings - tie the knot in style
Please note: no bookings for weddings are being taken at this time.
Dogs in parks
Well-behaved dogs are welcome in Avenham and Miller Parks. Please keep dogs under control, take care when passing other visitors with dogs and clean up after them. Dogs should be kept on a lead when necessary and must not enter the water fountain, pond, or children's play area. For more details on dog laws in Preston visit Preston City Council - Dog laws in Preston.
Our dog-friendly itinerary also lists dog-friendly activities and places to eat and drink when visiting Avenham and Miller Parks.
Park awards
Avenham and Miller Parks gained their first coveted Green Flag Award in 2008 and have retained the award ever since. The award is given to a park in recognition of health, safety, security, maintenance, sustainability, conservation, heritage, community involvement, marketing, and management.
In 2013, English Heritage carried out a reassessment of the parks, resulting in upgrading their listed status to Grade II*. This status recognises the design and historical importance of the parks.
More recently, in 2016, Avenham & Miller parks earned a Tripadvisor Certificate of Excellence Award.
Parking
A 40-space car park for Avenham and Miller Parks can be found on South Meadow Lane, opposite The Continental Pub (PR1 8JP), and a 78 space car park can be found off East Cliff (PR1 3JH). Please respect the surrounding residential areas of the parks by using a designated car park, fines are issued for on-street parking.
There are also a number of city centre car parks to choose from, which include disabled parking.
Disabled access
Avenham and Miller Parks feature a mix of well-maintained level paths and paths with inclines. There are also disabled toilets available on-site and easy access entrances into the park via the West Cliff and South Meadow Lane entrance points.
History of the parks
When visiting the parks you can learn about their history and key features through interpretation signage. Or, to learn more about the history of Avenham and Miller Parks from home, see Avenham & Miller Parks History.
Virtual Tour
Take our virtual tour around Avenham and Miller Parks to view all its key sights and learn its history, complete with historical photographs.
Get involved
Friends of Avenham and Miller Parks work in partnership with Preston City Council. The group helps with park related projects as well as contributing to the management decisions and helping to raise funding for improvements and facilities.
For more details on the Friends of Avenham and Miller Parks visit Preston City Council - Friends of the park.
Follow on social media
#MyPreston - Share your experiences
Share your Preston adventures and discover new places to enjoy using #MyPreston.
This is our Preston. This is your Preston. This is #MyPreston.
Map addresses for Avenham and Miller Parks' entrance points
Avenham and Miller Parks, South Meadow Lane, Preston, PR1 8JT.
West Cliff, Preston, PR1.
South Meadow Lane, Preston, PR1 8JN.
Ribblesdale Place, Preston, PR1 3NA.
Avenham Colonnade, Preston, PR1 3LY.
(Old Tram Bridge) Boulevard, Preston, PR1 4PE.
East Cliff, Preston, PR1 3LB.
Bank Parade, Preston, PR1 3TA.