Group Travel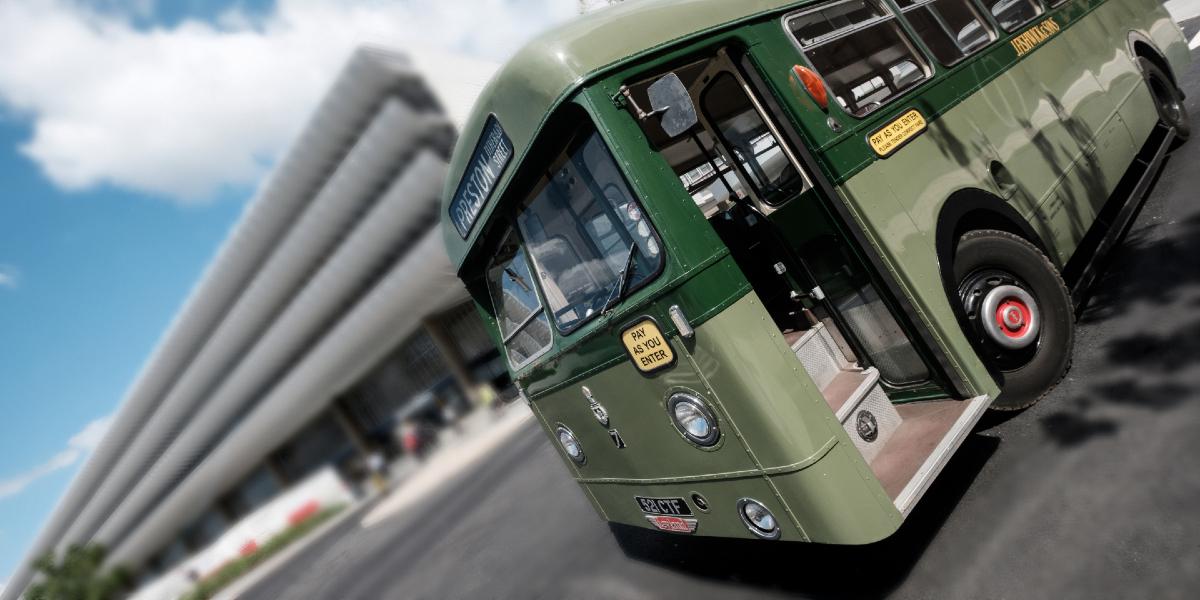 If you're planning a group day out or overnight stay in Preston then look no further than this handy travel guide.
Whatever your budget or reason for visiting, the city is packed with things to see and do - day and night. From history and heritage to nightlife and good food, all kinds of group visits are catered for when you visit Preston.
Getting here
See Travelling to Preston for a comprehensive guide on travelling to the city by road or by public transport as well as city centre parking.
For those travelling by coach, parking is available at Preston Bus Station and must be pre-booked. To book see Visit Lancashire - Coach Parking.
Group attractions: city centre
Preston city centre's attractions are conveniently located within easy walking distance from each other. This makes the centre ideal for group trips, along with plenty places to eat, drink, and stay nearby.
Preston Flag Market
Outside The Harris Museum & Art Gallery is Preston Flag Market. The Flag Market is an open area in the city centre, providing a place to watch the world go by. It is also home to Preston's Cenotaph and Obelisk as well as a number of places to eat and drink.
The Preston Cenotaph is a Grade I listed monument dedicated to the soldiers of Preston who perished in WWI, and is a must visit for lovers of architecture and heritage. The structure was originally designed by Sir Giles Gilbert Scott, designer of the iconic red telephone box. Preston happens to have the longest continuous row of these red telephone boxes, which can also be seen from the Flag Market, along Market Street.
Opposite the Cenotaph is the Obelisk. The Obelisk dates from 1782 and was originally lit by gas. The structure was removed in 1853 until its re-erection on the site in 1979 to mark the 800th anniversary of the city being granted the charter by King Henry II.
The Flag Market also hosts many events in the summer, and a variety of local craft and food markets throughout the year. For upcoming events see our What's on.
Parks and gardens
Exploring Preston city centre's historical parks and gardens makes for an all-rounded group day out. The parks are suitable for visitors who are interested in history and educational visits as well as those who just love scenery, the outdoors, and architecture.
Winckley Square Gardens are just a stone's throw away from Preston's Fishergate high street. The gardens are surrounded by the period architecture of Preston's affluent Winckley Square and provide a peaceful retreat as well as a great historical visit. The plaques dotted around the gardens provide an insight into historical figures and events that this picturesque area has seen since its creation in 1801. To book a group tour of Winckley Square visit Winckley Square Preston - Walks and Tours.
For even more history and beauty outdoors, Avenham and Miller Parks are less than a minute's stroll from Winckley Square Gardens. These Grade II listed Victorian parks sit next to each other, joined by scenic footpaths, and provide hours of exploring. Both parks feature must-see attractions, including the Japanese Rock Gardens, Sebastopol Canons, the Italianate Terrace, and Miller Park's listed fountain.
Avenham & Miller Parks also feature a fantastic selection of winding paths and walking routes as well as large open green space and sheltered seating - making them an ideal location for a group picnic. You will find the Pavilion Café along the parks' scenic footpath, overlooking the River Ribble, where you can enjoy a spot of lunch or take a refreshment break and soak up the scenery.
St Walburge's Church
Less than a 30 minute stroll, or a short bus ride, from the city centre, St Walburge's Church is a must visit. The Roman Catholic Church is a stunning Grade I listed building, with the third tallest spire in the UK and the tallest of any parish church in England.
The French Gothic-style building features vibrant stained glass windows and medieval-style halls inside.
If you visit on a Saturday, make sure to take part in one of the church's free heritage tours.
Deepdale Stadium
One of Preston's most popular attractions, Deepdale Stadium is the home of Preston North End FC and played an important part in football's history. The Stadium is less than a 20 minute walk from Preston Bus Station, or just a short bus ride. It has its own dedicated car park as well as free parking opposite at Moor Park. With the convenience of Moor Park and the Rosemary on the Park Cafe nearby as well as Deepdale Shopping Park, Deepdale Stadium makes a varied and convenient visit for a group day out.
The stadium features the iconic statue and water feature in memory of Sir Tom Finney, "The Splash", and a monument to the Dick Kerr Ladies. It is a must visit for football fans, with souvenirs available from the stadium's shop.
Walks and tours
Venture on any number of self-guided walks in the city centre, highlighting Preston's history and heritage. You can learn about the Battle of Preston 1715, city centre statues, blue plaques, Preston's historical figures, and much more.
There are also guided walks and talks available within the city centre, including Winckley Square Guided Walks and St Walburge's Church Guided Tours.
Just download your map and guide or make a booking and see what you can discover.
Evening entertainment
Preston's city centre boasts Purple Flag status, which recognises the diversity, safety, and vibrancy of the city's nightlife. You're spoilt for choice when it comes to bars and pubs as well as dessert houses open until late.
If you're after evening group activities, the city centre entertainment complex, Level, is open until late for games of bowling, laser tag, crazy golf, and more. There are also a variety of cinemas, escape rooms, and other group activities nearby, all of which can be found in our activities and entertainment directory.
Group attractions: outside the city centre
Preston has bundles of places to be explored outside of its city centre. These fantastic attractions are suitable for groups and suit history and heritage lovers as well as outdoor enthusiasts.
Guild Wheel
If your group visit is about getting outdoors then the Guild Wheel is the perfect candidate. The 21-mile circular route can be completed on foot or by bicycle, taking you on a journey through Preston's urban and rural areas.
The Guild Wheel isn't just a day out in itself, it can be what you make it. You can hop on and hop off at any point and explore areas nearby, such as Preston Docks and Avenham and Miller Parks.
Nature walks
Head outdoors and get close to nature at one of Preston's outdoor reserves.
Brockholes Nature Reserve provides a diverse day out, with walks around the reserve suitable for walkers of all levels. Keep your eyes peeled for wildlife and wander through a variety of habitats, finishing up at the reserve's floating café.
Beacon Fell Country Park has 271 acres of beautiful woodland to explore as well as serene views over the Forest of Bowland and Morecambe Bay. The country park also has a fantastic sculpture trail for children and a café on-site.
Haslam Park is an easy visit, not far from the city centre and with its own free car park. The park was created in the Edwardian period, which can be seen in many of its features. The Green Flag awarded park includes its own nature reserve, tree-lined paths, an ornamental lake, and sits alongside the Lancaster Canal for further walking.
Museums
A museum with a difference, Ribble Steam Railway and Museum can be found near Preston Docks. The museum features a miniature railway, restored locomotives, and a peek into their workshop; you also get the chance to ride a steam train. Ribble Steam Railway also hosts special steam train events, including afternoon tea on a train. These events must be booked in advance and are suitable for small groups.
Lancashire Infantry Museum holds the largest and most important Infantry Regimental collections in the country, and is the premier centre for historical military research in Lancashire and the whole of North England. Entry to the museum is free and they regularly host special exhibitions and speaking events.
For a more quaint experience, why not visit the Church Cottage Museum. This museum tells the story of the building's history, since its beginnings as a Tudor dwelling.
Halls and towers
Choose from the fantastic Samlesbury Hall or Hoghton Tower, both perfect for a group day out.
Hoghton Tower can be found just on the outskirts of Preston. The historical manor house boasts stunning halls inside and views outside, as well as gardens, a doll's house collection, and a tea room. Group tours are also available to book in advance.
Samlesbury Hall dates all the way back to 1185 and has plenty to explore, both inside and out. As well as the stunning and historical building itself, Samlesbury Hall's grounds are home to a Bee and Heritage Centre, a woodland trail, a children's playground, a restaurant, a wafflery, and a gift shop. A variety of free tours, covering a range of the building's fascinating history, are also available to join - what more could a group need?
Walks and tours
Guided group walks and tours outside Preston city centre include Hoghton Tower Guided Tours and Samlesbury Hall Guided Tours. Both attractions offer a variety of tours that include seasonal themes, such as ghost tours.
Evening entertainment
Preston has a wide variety of group activities outside the city centre, suitable for evening entertainment. These include cinemas, escape rooms, bowling, and more. You can find something to suit your group's interests in our activities and entertainment directory.
Or, why not try everything under one roof at The Flower Bowl Entertainment Centre, home to miniature golf, a cinema, bowling, curling, restaurants, and bars.
Eat and drink
Whether your group needs a quick snack, an energy boosting coffee and cake, or a sit down meal, you're never too far away from somewhere to eat and drink in Preston.
Our Food and Drink directory can help you find what your group needs when visiting the city centre.
For places to eat and drink outside of Preston's city centre visit Tripadvisor - Restaurants in Preston.
Accommodation
Whatever your budget, you will find a variety of group-friendly accommodation when visiting Preston. Accommodation includes city centre stay-overs, suburban retreats, and countryside havens.
Find the right accommodation to suit your group visit in our Accommodation directory.
More inspiration for your group trip
If you need further inspiration for your group visit to Preston then see things to see and do in Preston.
You can also gather further inspiration from our itinerary ideas.
Map addresses for Group Travel
Preston Flag Market, Cheapside, PR1 2AP.
Winckley Square Gardens, Winckley Square, Preston, PR1 3JJ.
Avenham & Miller Parks, South Meadow Lane, Preston, PR1 8JT.
St Walburge's Church, Weston Street, Preston, PR2 2QE.
Deepdale Stadium, Sir Tom Finney Way, Preston, PR1 6RU.
Preston Riversway Docks, Navigation Way, Ashton-on-Ribble, Preston, PR2 2YP.
Brockholes, Preston New Road, Preston, PR5 0AG.
Beacon Fell Country Park, Carwags Lane, Preston, PR3 2ES.
Haslam Park, Bristow Avenue, Ashton-on-Ribble, Preston, PR2 1JE.
Ribble Steam Railway, Chain Caul Road, Preston, PR2 2PD.
Lancashire Infantry Museum, Fulwood Barracks, Preston, PR2 8AA.
Church Cottage Museum, Church Lane, Preston, PR3 5LD.
Hoghton Tower, Hoghton, Nr Preston, PR5 0SH.
Samlesbury Hall, Preston New Road, Samlesbury, Preston, PR5 0UP.